Everyone knows they should be backing up their WordPress website. If you're not sure if you should be backing up your website, then ask yourself how you'd feel if your site and all its content disappeared overnight and vanished without a trace.
If that isn't something you'd be OK with, then now is the time to start backing up your WordPress website. Not only do you need to start backing up your WordPress website, but you also need to be confident that you can restore those backups should something go wrong.
In this article, we'll be looking at a free and feature-rich WordPress backup plugin that not only makes it easy to take full and partial website backups on an automated basis but also has a restore process you can rely on. That plugin is UpdraftPlus, a free and popular tool with an impressive 4.8 stars out of 5 rating while also managing to rack up over 1,000,000 active installations.
Why Use UpdraftPlus to Backup Your WordPress Website?

There are countless backup plugins for WordPress. But after trying out many of the best options on my portfolio of WordPress websites, I settled on UpdraftPlus. While most of the leading free WordPress plugins make it easy to take a backup, when it comes to restoring those backups, things don't always run as smoothly.
Over the years, UpdraftPlus has become the free WordPress plugin I trust to take care of safeguarding my website. Whether I've updated a rogue plugin that's caused the infamous WordPress white screen of death or I've accidently deleted an article, UpdraftPlus has come to the rescue many times.
UpdraftPlus supports most of the leading cloud storages services, giving you a safe place to store your backup files. Personally, I have my UpdraftPlus backup files automatically sent to Dropbox for safe keeping. However, you might prefer to use Google Drive or have them emailed to you directly.
If you want to know how to backup your WordPress website now for free, then UpdraftPlus comes highly recommended. There are also premium upgrades available that can make this plugin even more useful. However, for now, most users will be fine with the core free version of UpdraftPlus. So to help you start backing up your WordPress website today, let's do a quick walkthrough of setting up the UpdraftPlus plugin.
How to Start Taking Automated WordPress Backups Today
As UpdraftPlus is available for free from the WordPress Directory, it can be added to your site in just a few clicks. Simply log into your WordPress Dashboard. Then click on the Add New item under the Plugins menu.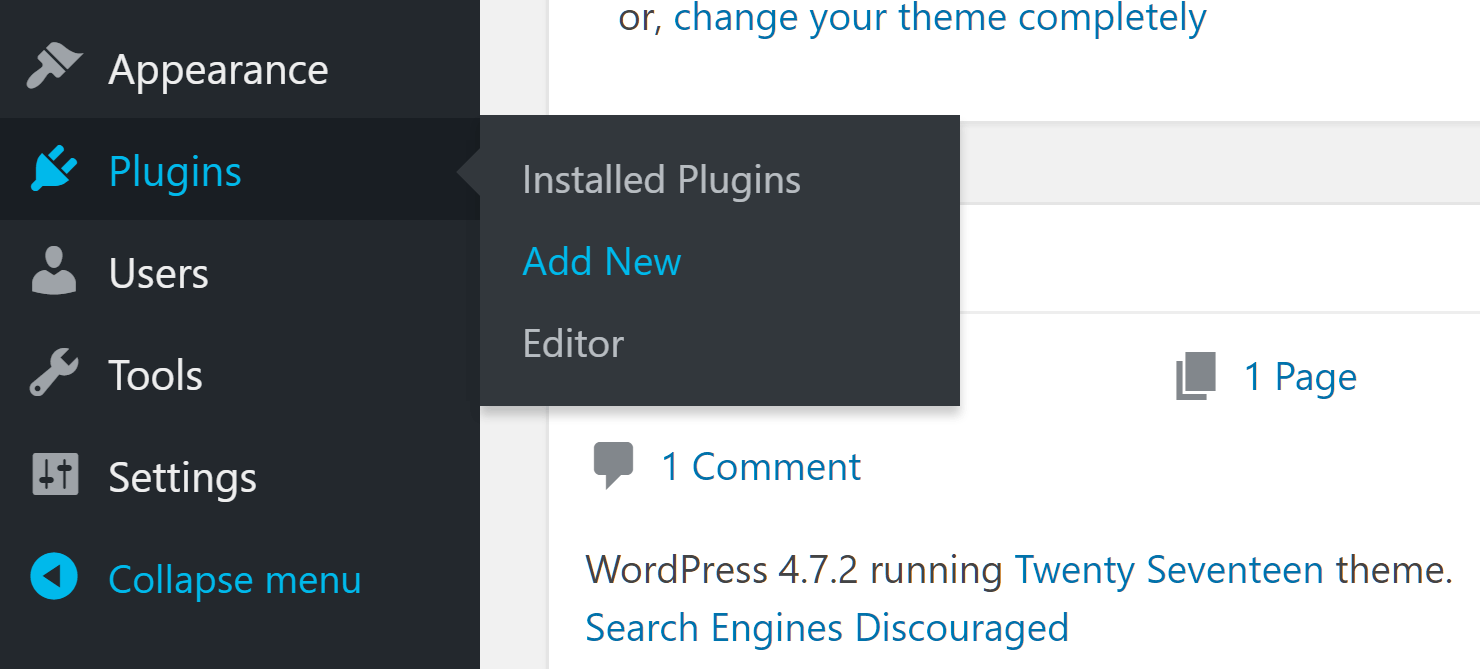 On the next screen, enter 'UpdraftPlus' in the search field and press the Enter key. Once the results are displayed, click on the Install Now button next to UpdraftPlus, then the Activate button.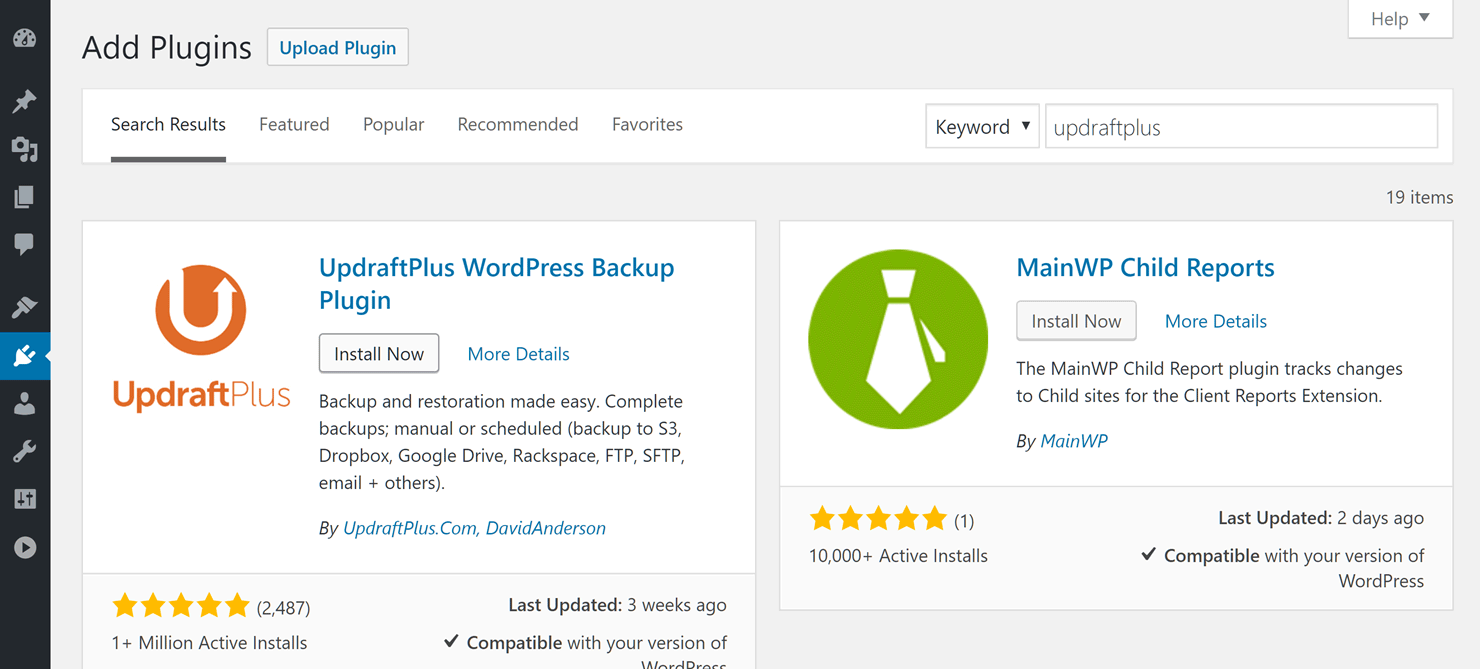 In just a few clicks, you've added powerful backup functionality to your WordPress website, for free. Now it's time to configure the plugin.
How to Setup UpdraftPlus on Your WordPress Website
Thankfully UpdraftPlus doesn't clutter up your WordPress sidebar menu with another top level item. Instead, the link to the UpdraftPlus control panel can be found under the Settings menu.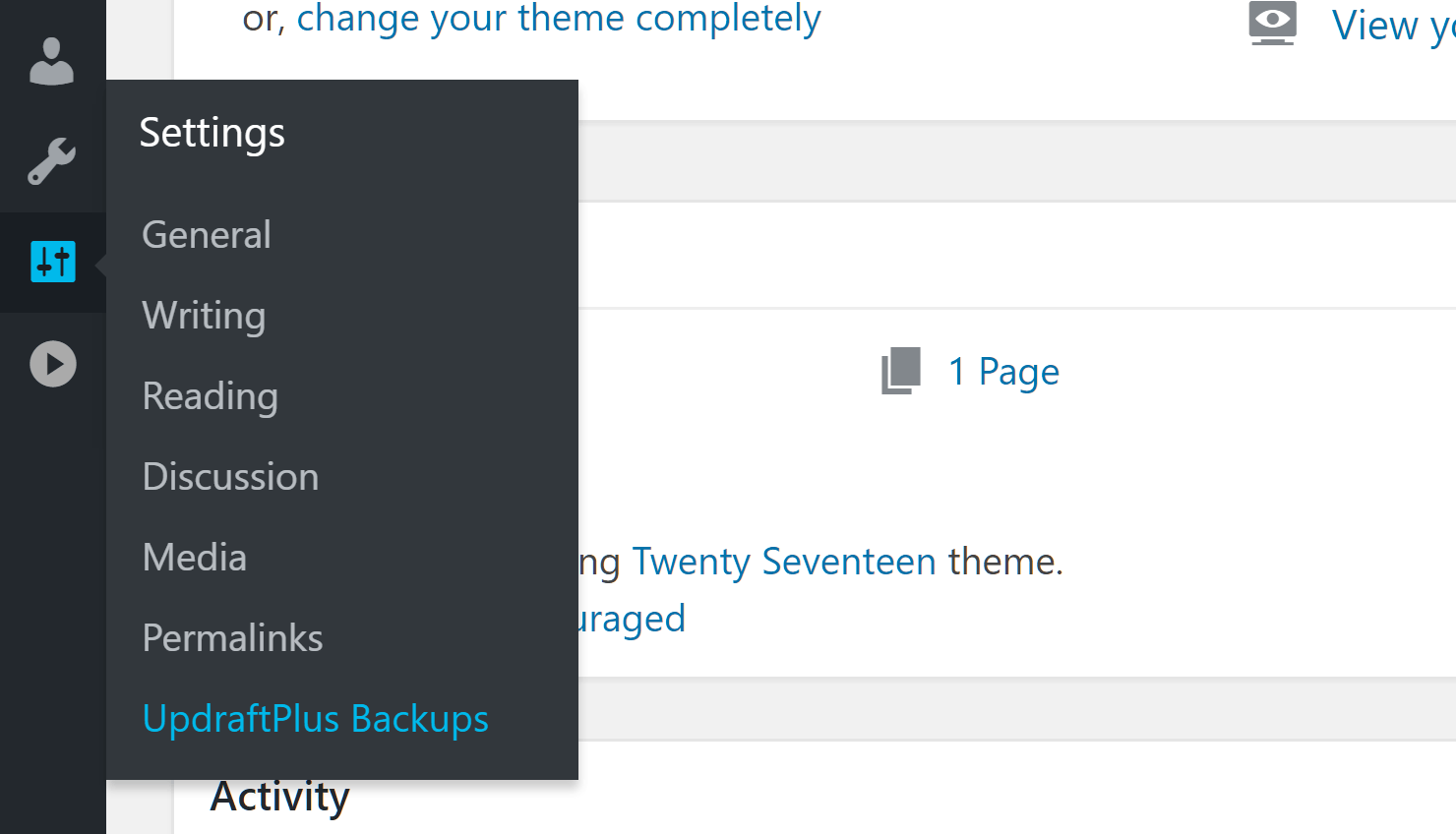 From this page, you can quickly enable cloud storage integration and have your backups sent to a service like Dropbox or Google Drive. You can also define an automated backup schedule in just a few clicks.

Once the Updraft Plus dashboard has loaded, click on the Settings tab to configure the plugin.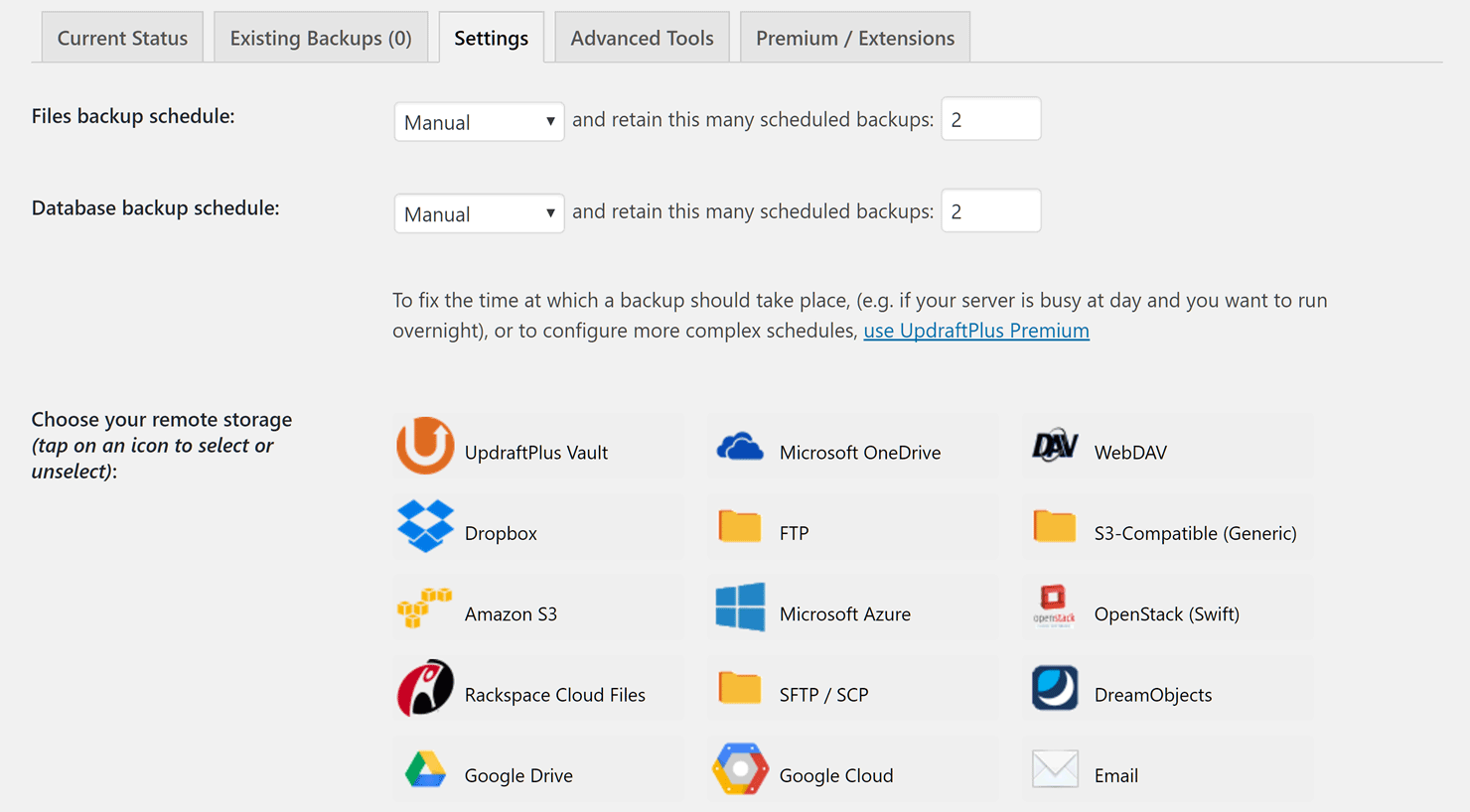 From the Setting page, you can define a backup schedule and then choose the storage location for your backup files. If you're making a lot of changes to your site, on a regular basis, then I would recommend taking both files and database backups every four hours and retaining maybe 10 versions of each. If your Dropbox account doesn't have enough storage space for this amount of files, then Google Drive or Microsoft OneDrive might be better options for you.

If you're not making changes to your site that often, then you can safely set the backups to be taken less frequently, with fewer files to be retained. Once you've made a decision, you can move onto choosing a storage location for your WordPress website backup files.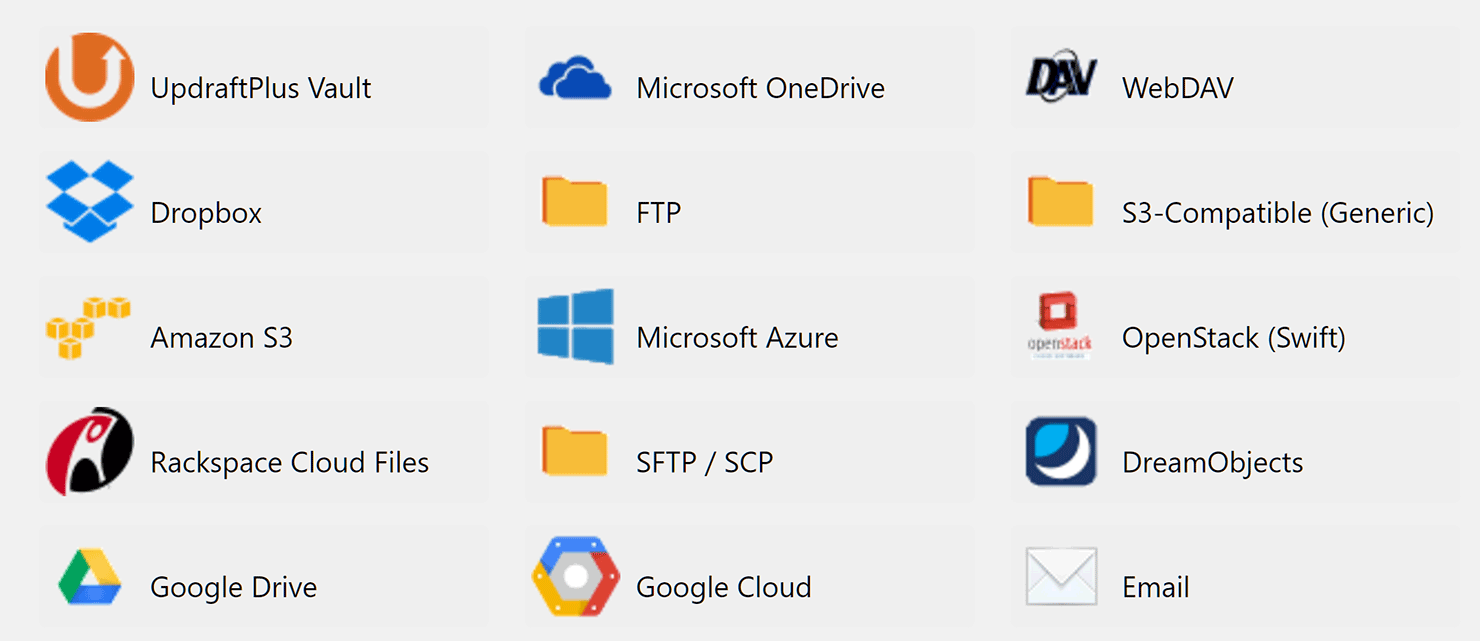 Clicking on the service or destination of your choice gives you the ability to enable the integration. In most cases, you'll need to click on an icon, such as Dropbox, save the settings, then follow the onscreen instructions to complete the process.

If everything went according to plan, you'll be taken back to the UpdraftPlus dashboard and the plugin will start taking the first backup.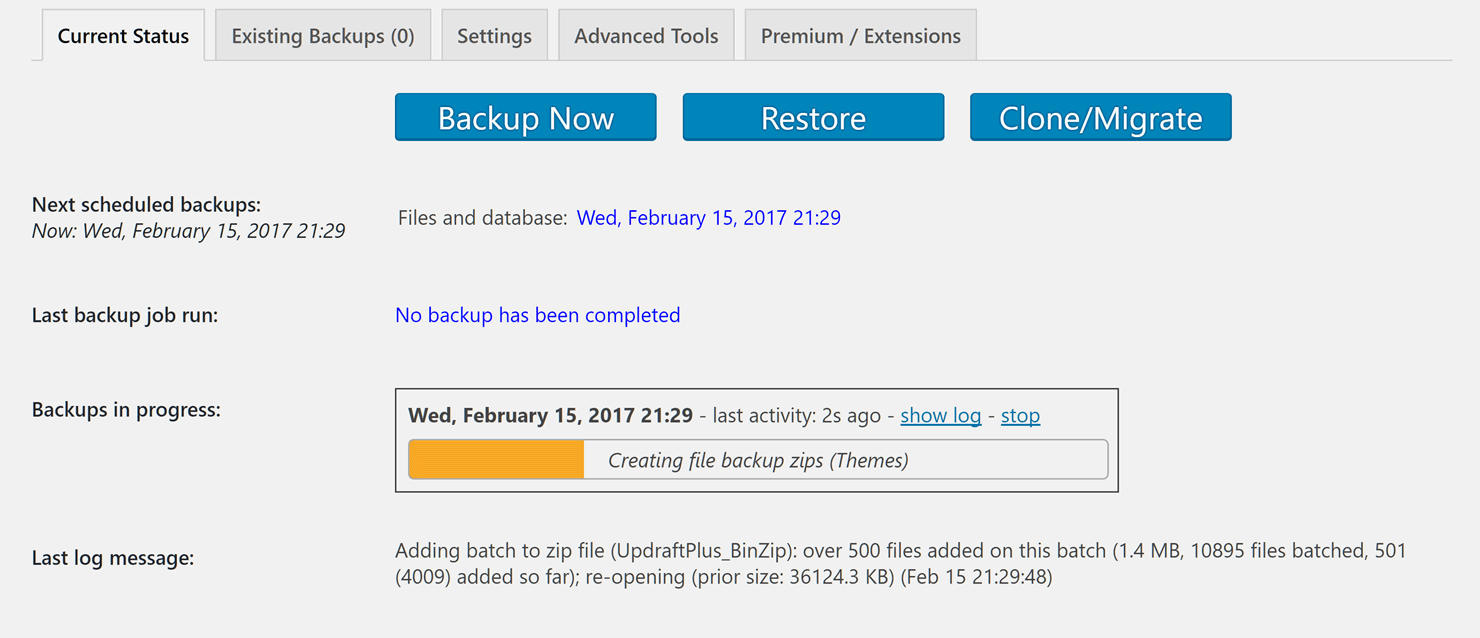 Once the backup has been created, you can view the files in your Dropbox account — or wherever else you choose to store them — either locally on your computer, or online in the cloud, just to be sure they are there.

You can also visit the Existing Backups tab in the UpdraftPlus control panel inside your WordPress admin area to view the successfully created backup files.

Now you can view the backup files and restore them when necessary. If you have opted to store your backup in the cloud, there's no need to download them first with UpdraftPlus. This free yet powerful WordPress backup plugin can grab them from your storage location and import them into your site automatically.

Hopefully, all went well with your test restoration and you now have a robust backup strategy in place for your WordPress website. All without investing a penny. If you do run into any problems, then be sure to check out the FAQ and the UpdraftPlus support forums at WordPress.org.
Final Thoughts
On the subject of WordPress backup plugins, the proof is in the pudding and when it comes to taking and – most importantly restoring – website backups, UpdraftPlus passes with flying colors.
If you're looking for a tried and tested free backup solution for WordPress then UpdraftPlus is my recommendation. However, if you're looking for an even more hands-off and foolproof solution, and you don't mind paying a few dollars per month, then choosing VaultPress is the better option. But for everyone else, UpdraftPlus is the best way to start backing up your WordPress website for free today.
Are you ready to start backing up your WordPress website? Let us know in the comments below.