This is a post in a series on starting a new WordPress website – covering registering a domain through to to publishing your first post and everything in between. To view the full list of posts in this series, please click here.
The first step in getting your WordPress website online is to register a domain name, which will look something like this: www.yourbusiness.com
In this post you will learn how to quickly register the domain name for your website with an affordable and highly reputable domain registrar, and get some tips on picking the right domain name for your project.
If you are ready to register your domain name, I recommend you simply head over to namecheap.com and create an account and secure your domain name now before someone else does.

However, if you'd like some more information and advice on picking the right domain name for your website please read on.
Tips on Choosing the Perfect Domain Name
If the entity you are creating the website for is already up and running, or at least past the conception stage, then choosing a domain name should be easy – simply use its name as the address of your website.
However, sometimes that phrase or term might not be available to register as someone else has gotten there first.
If that is the case, then you have three main options on how to find the next best domain for your project:
Choose a totally different name for your website address
Add some other words to the name for the use in the website address
Select a different top level domain (TLD)
Choose a More Descriptive Domain Name
The first option might not sound that appealing. However, taking this approach doesn't mean rebranding your business. You could simply choose a more descriptive domain name for your website, such as bostonplumber.com rather than the brand name of the plumbing business you have.
Add Additional Words into the Mix
The second option is to add some more words to your chosen domain that has unfortunately already been taken by someone else. This will help you find a domain name that contains your brand name, but also includes some other words to help make it unique. These additional words could include your location, or terms like 'website', 'online', or 'service'.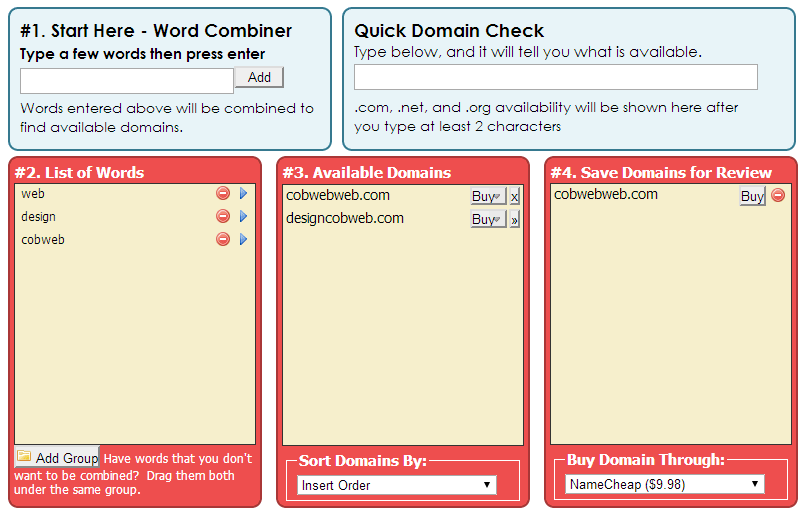 If you need some help coming up with a domain name then these free online tools have helped me out in the past:
By entering your preferred words the above tools will generate domain name ideas for you in an instant, giving you plenty of options to consider.
Choose a Different TLD
Top level domains (TLD) are commonly referred to as domain extensions. Popular options include .com, ,co.uk, .net, and .org.
However, in recent years the list of TLDs available has grown significantly. While opting for a more obscure TLD such as .camera or .coffee might mean that you are able to get the domain name you want, it's important to consider whether the TLD matches your business, and how memorable it will be for your audience, compared to a more traditional TLD such as .com.
5 Tips on Choosing the Perfect Domain Name
While countless domains have already been snapped up, with a bit of persistence you can still find a great domain for your website. Even if your first choice is taken, by getting a bit creative you should still be able to find a professional looking and sounding domain that fits the purpose of your website.
To help you get it right, here are some tips on picking a domain name for your project:
Keep it short: three words or less is a recommended domain length
Aim for .com: if at all possible try and secure the dot-com TLD as it makes branding your business easier, as opposed to using an obscure TLD
Don't overlook a local TLD: although dot-com is preferable, if you are exclusively operating in a local market, outside of the US, then snapping up the .uk or .au domain is still a great option
Choose an easy to spell name: if you want your audience to not only remember your domain, but also be able to spell it when they get to a computer, try to avoid any clever sounding words or those that are difficult to spell
Avoid hyphens: adding a hyphen or number might increase your chances of finding an available domain, but it's also going to increase the chances of people mistyping your site's address
By following the above tips and using some of the domain name generation tools, you should have no problem finding a memorable, easy to spell domain name that matches the purpose of your website.
How to Register a Domain Name for Your WordPress Site
Now that you've found your perfect domain name, it's time to register it. Registrations typically last for one year, although you can purchase additional years up front.
This is a good idea if you want to eliminate the risk of your domain expiring and someone else snapping it up before you get a chance to re-order it.
Why Not Let Your Web Host Handle Domain Registration?
In the next post in this series we will help you find the best WordPress web host for your new site. However, when signing up with your chosen web host, you might notice that some web hosts offer domain registration.
In my experience, it's best to keep your domain registrations and web hosting accounts separate. If you ever need to change your web host in the future, which is common as the needs of your site grow, being able to easily switch your domain the new web host is much easier when its managed by a third party.
How to Register the Domain
To get your domain name, you will need to use a registration service and I recommend namecheap.com as I've been using them for years with no problems at all.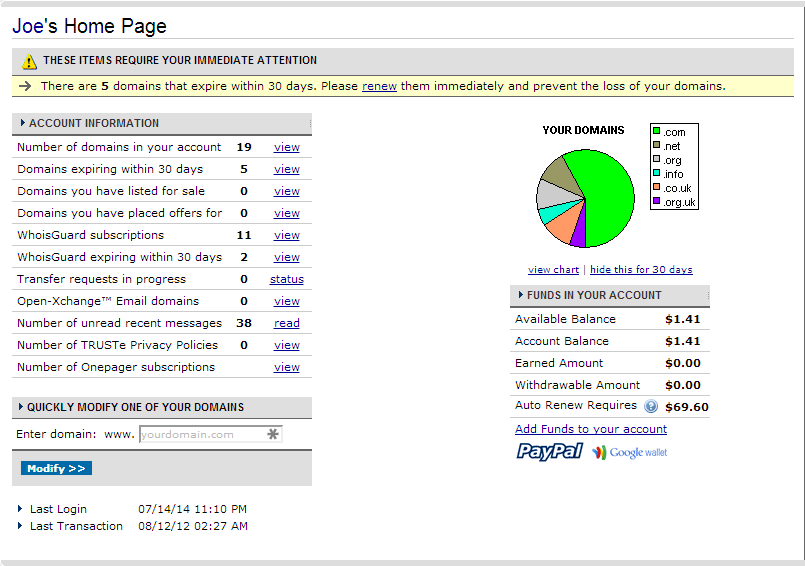 You will need to create an account at their site, but this takes a few seconds, then it's just a case of entering your chosen domain and choosing the TLD such as .com and then securing that domain. You can pay by credit card or PayPal so you shouldn't have any problems checking out and registering the domain of your choice.
If you have any questions, please leave a comment below or sign up to the Get Web Tips newsletter.