How to Install WordPress On Your New Web Hosting Account in Five Steps
How to Install WordPress On Your New Web Hosting Account in Five Steps
Now that you've registered a domain for your new website and chosen a web hosting provider, it's time to install WordPress.
As WordPress is the software that will power your new website, it needs to be installed just like a regular piece of software on your computer, or an app on your phone. Except as we want this software, and your website to be visible to the world, WordPress needs to be installed on a web server. If this sounds a bit complicated, don't worry, it really isn't.
Guide to Installing WordPress On Your New Web Hosting Account
Unfortunately, depending on which web host you have chosen, the process of installing WordPress will be slightly different. However, in most cases the five step guide to installing WordPress below will see you though the process with ease.
In some cases your host might even install WordPress for you without you having to do anything. To check if this is the case, visit your newly registered domain and add '/wp-login.php' to the end of the address and if you see a login screen, then congratulations, you have a brand new WordPress site to start working with.
To check if WordPress is installed, go to: http://yourdomainname.com/wp-login.php
If you see the WordPress login form, then you are good to go.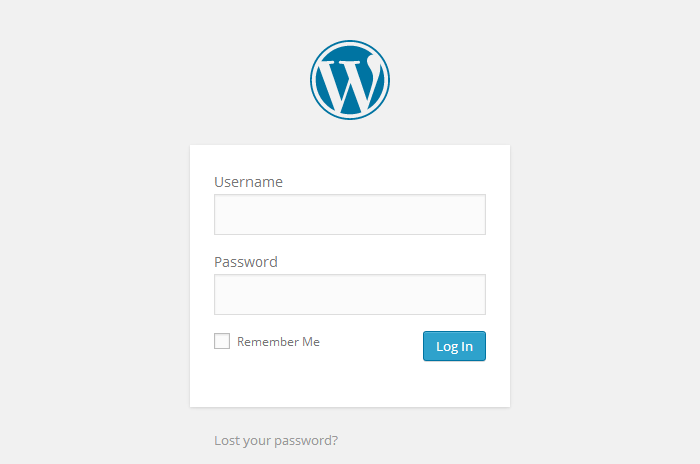 If you don't know your username and password, check your inbox for an email from your web host or whoever installed WordPress for you for the details.
If WordPress has been installed, the real fun begins, so it's time to skip this post and read about the essential tasks you must complete on a new WordPress site.
Five Step Guide to Installing WordPress
If you chose one of the hosts on our list of recommended WordPress web hosts that don't install WordPress on your behalf, then in most cases you can install the software in just a few clicks.
In this demonstration I will be using HostGator, a low cost, entry level host for new bloggers looking to get started as soon as possible with little financial outlay.
However, this guide should work with any of the main shared hosts such as Bluehost or SiteGround, that are using the cPanel software to allow you to manage your account.
1. Login to the cPanel Control Panel
Look for the welcome email from your web host and find the web address and login credentials for the control panel or cPanel for your account.

Click on the link in the email and log into the control panel.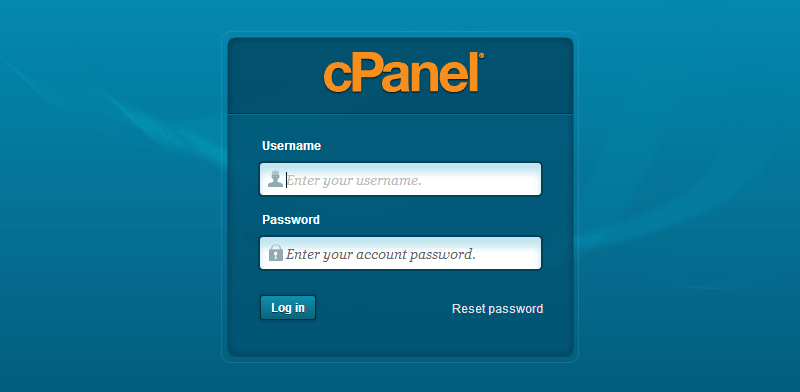 2. Locate the Installer
Once you are logged in to the control panel, you should see something like this, perhaps with different branding, depending on your chosen web host.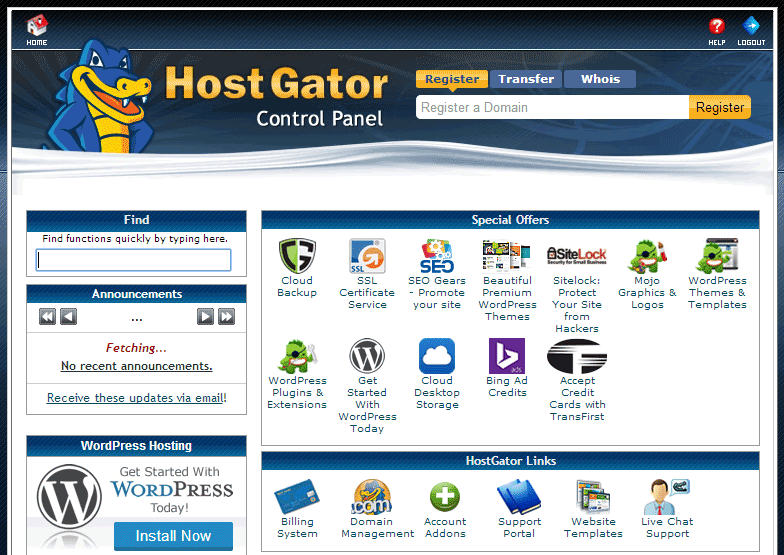 Now we need to find the QuickInstall tool which will take care of the WordPress installation for us. You can either scroll down to locate it or hit the Crtl + F keys on your keyword and type in QuickInstall to let your browser find it.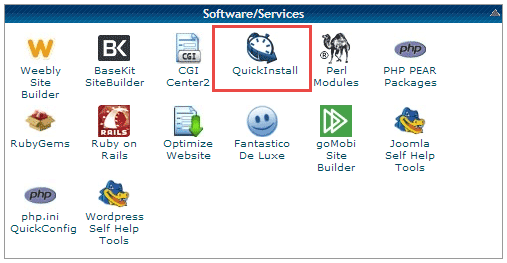 With HostGator QuickInstall is located in the Software/Services area, but it could be different for your host to if you don't see it there, keep looking.
3. Select WordPress
One inside the QuickInstall tool, on the left hand sidebar, there should be a header section entitled 'Blog Software', which contains the WordPress link. Click on 'WordPress' to start the installation process.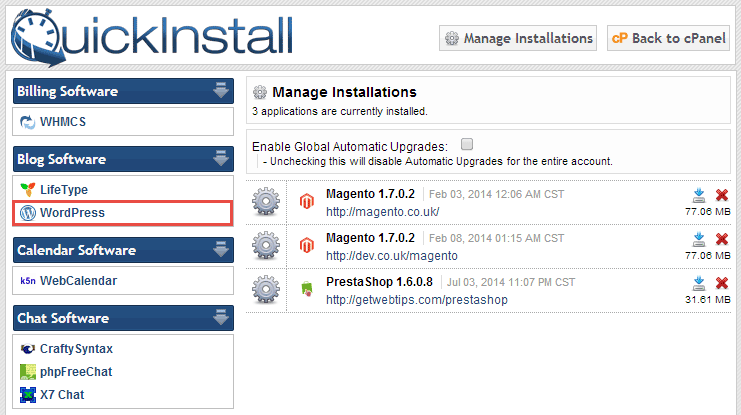 On the next screen, click on 'Continue' to proceed.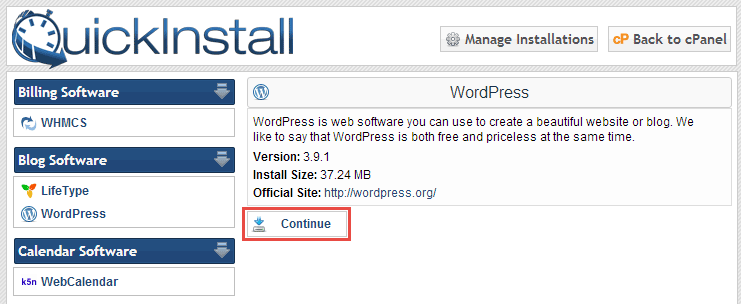 4. Install WordPress
One the next screen, you must enter a few details such as your email address, and the name of your site. Your application URL should be pre-populated with the domain you have associated with this hosting account, if not select it from the list.
When entering your username try and come up with something that will be difficult for anyone else to guess, and try avoiding things like your name or 'admin'.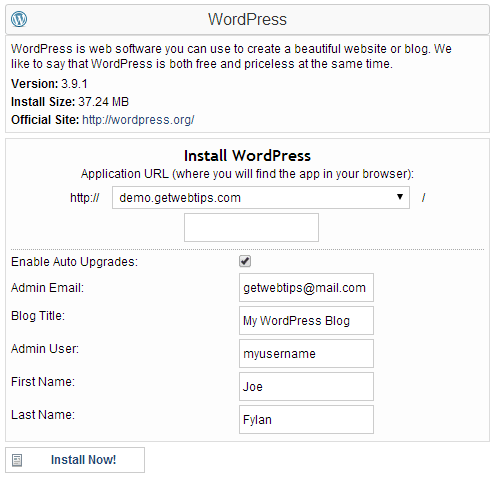 All of the settings can be changed at a later date, from inside your WordPress site, so don't worry too much about these details at this stage, just get them done and click 'Install Now!'.
5. Login to WordPress
Once you see the 'Congratulations!' message below, (even if the progress bar isn't fully completed) you can log into your brand new WordPress website.

Just click on the link in blue text and then use the login details to gain access to your new site.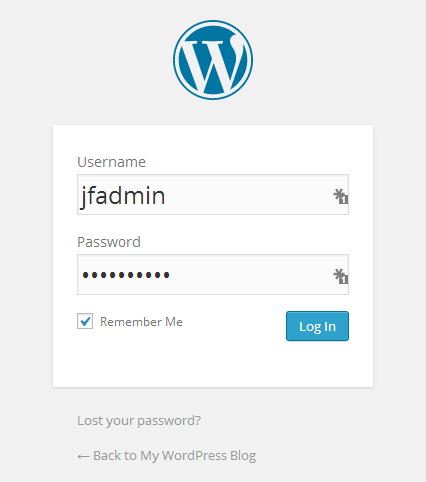 Once you've logged in, you will be taken to the WordPress admin dashboard for your new website.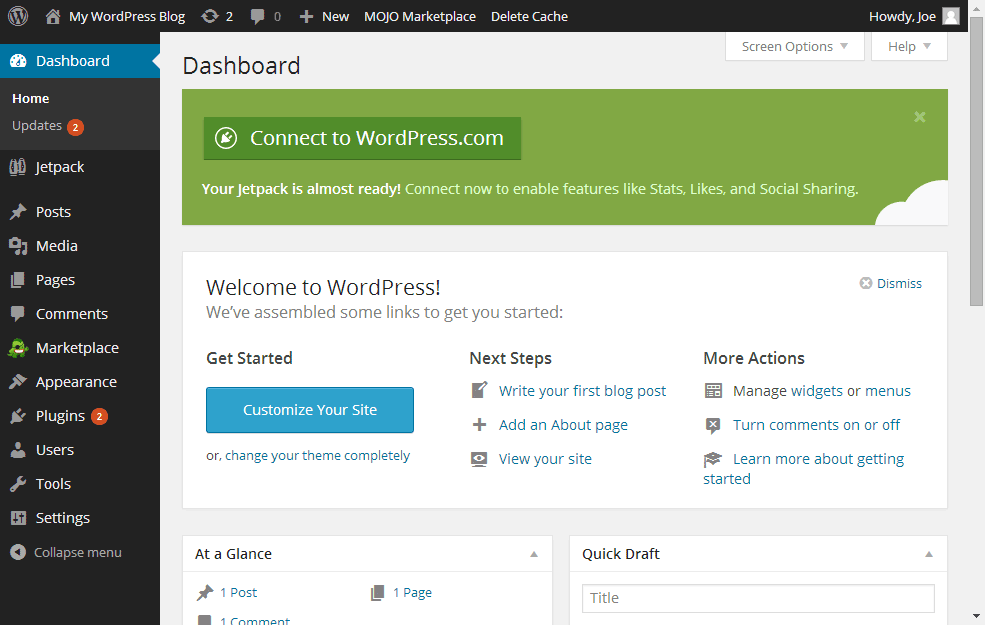 Troubleshooting
If you have any trouble logging in, check your inbox of the email address you supplied when installing WordPress for your username and password.
If the password isn't working or you can't remember it, switch back to the browser window or tab where you installed WordPress from and click on the 'Manage Installations' button at the top of the page.

Then click on the settings icons and enter a new password in the form below.

Now try logging in again by visiting your site at http://yourdomain.com/wp-login.php
Conclusion
Hopefully you've now got a new WordPress website installed on your registered domain. If you've had any problems with any of this, please get in touch.
In this next post in this series on setting up a new website will be covering the essential tasks you must complete after installing WordPress.
See you on the other side.