If you want to publish reviews on your WordPress website, this article is for you. In this guide, we'll look at some of the best WordPress review plugins to help you learn how to make your review content look professional and most importantly, persuade your visitors to take action.
Whether you want to know how to start a WordPress review website or simply add some professionally formatted reviews to your blog, this guide is for you.
What Can the Best WordPress Review Plugins Do?
Before we get to the best WordPress review plugins, let's quickly go over what these tools can do and how they can help. Typically, a good WordPress review plugin will add an extra set of boxes to the WordPress post editor.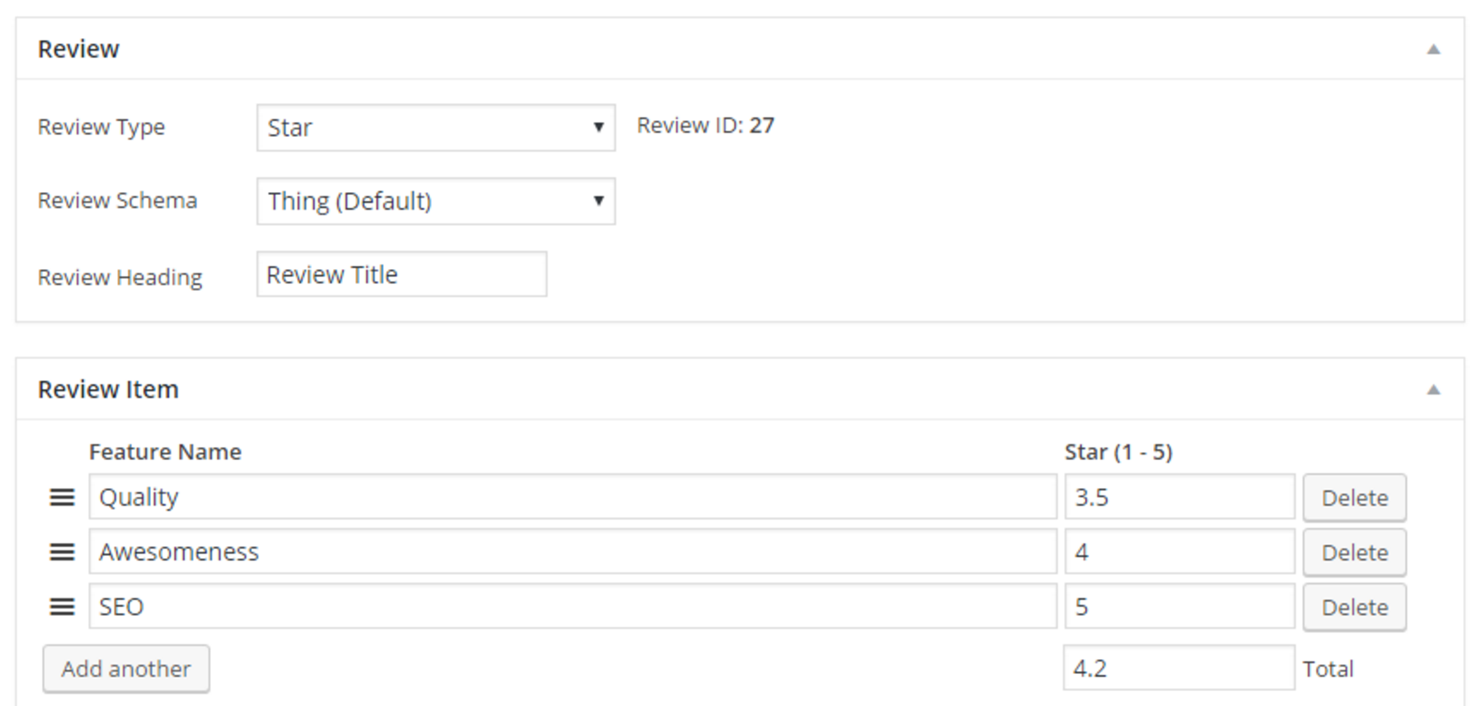 Through this control panel, you can enter more information about the item you're reviewing. Depending on the plugin you're using, this review information could include:
A product image.
Pricing information.
Custom review criteria.
Product score.
Buttons that link to where the product can be purchased.
This extra information will then be added to your WordPress post or page, turning a regular article into a professional looking review:

The best free WordPress review plugins should give you a pretty good selection of options in terms of how your review content is presented and what information you can add. However, if you're serious about creating a professional reviews website with WordPress, then investing one of the best premium review plugins for WordPress will not only make your reviews look more professional, but they could also help you generate more sales from your website, and in turn, make more money online through affiliate commissions and product recommendations.
So now we know what the best WordPress review plugins can do, and why you should be using one, let's look at the free and premium options available.
The Best WordPress Review Plugins
Thankfully, there's a great selection of free and commercial review plugins available for WordPress. Therefore, you can start adding nicely formatted reviews to your blog or website today for free. Many of these options are available on the freemium pricing model, allowing you to try a limited or lite version of the premium plugin, in a scaled down free version of the tool.
Anyway, to help you pick the right tool for your website, here are the best WordPress review plugins available today.
WP Review Pro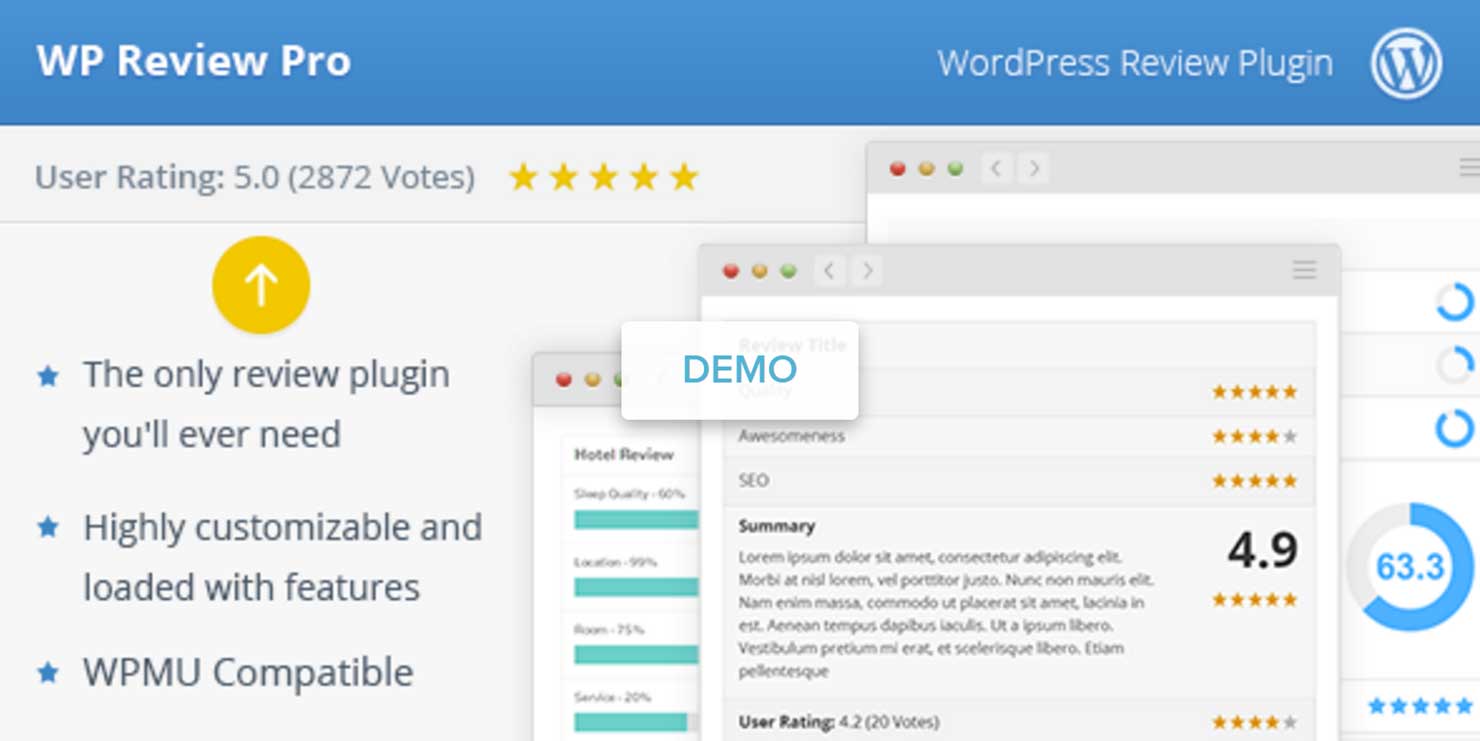 WP Review Pro is a powerful yet affordable premium WordPress reviews plugin. This tool is available from the reputable MyThemeShop, who also have a great selection of other WordPress plugins and themes.
WP Review Pro is packed with features that give you lots of control over how your reviews are presented. If you're looking for an easy way to upgrade your review content, this plugin comes highly recommended.
Best Features of WP Review Pro:
Multiple rating systems.
Optional user comments ratings and reviews.
CSS animated reviews.
Create global review criteria for use throughout your site.
Detailed review customization options panel.
Works with all WordPress themes.
Price: $39 or $87 for all MyThemeShop plugins and themes.
WP Product Review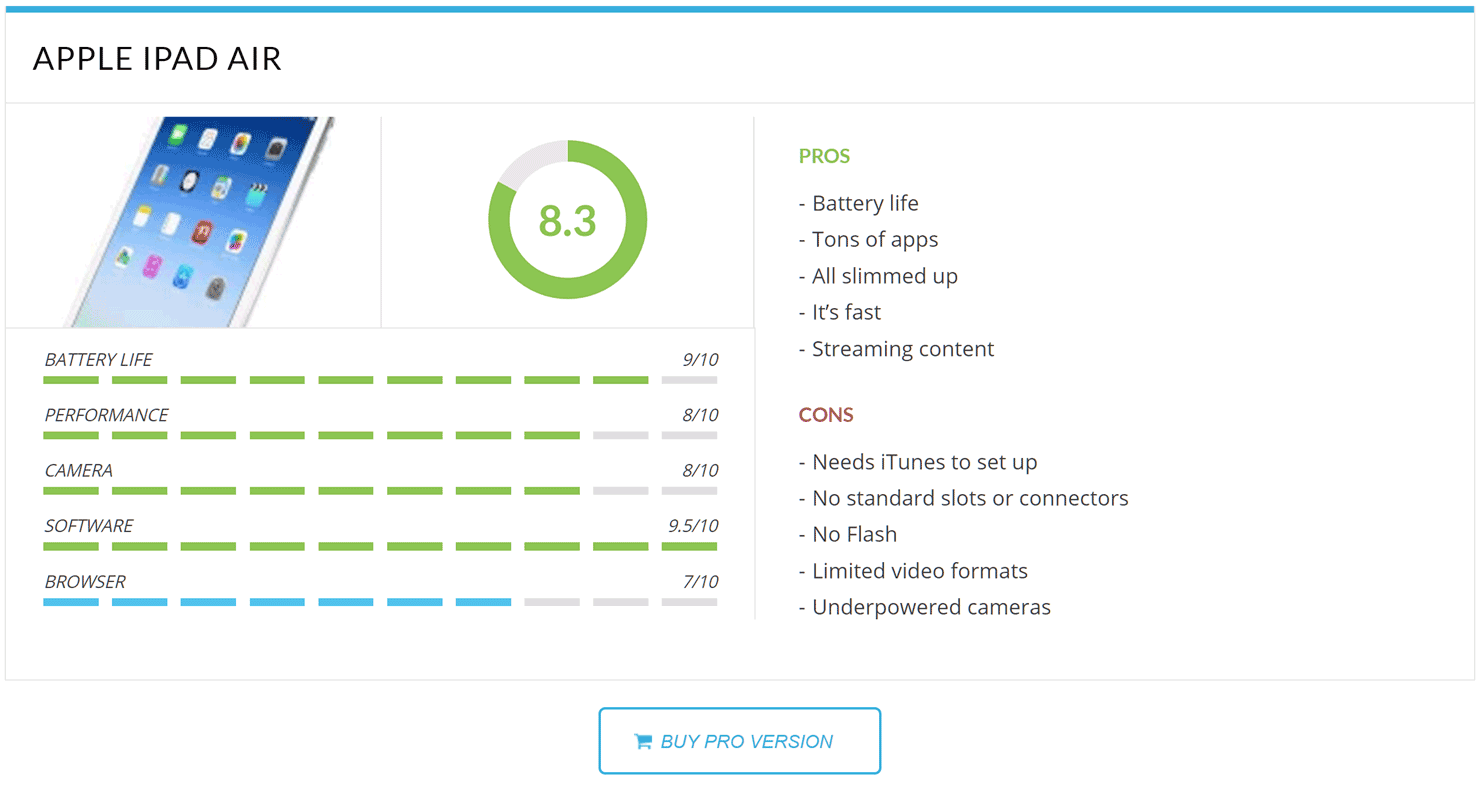 WP Product Review from ThemeIsle has some great features that make it a top reviews plugin. There are plenty of different ways to use this plugin, making it ideal for a range of different types of reviews. From products and places to services and experiences, WP Product Review comes highly recommended.
Best Features of WP Product Review:
Easily create product comparison tables.
Integrates with Amazon for monetizing your reviews with Amazon Associates affiliate program.
Includes latest and top product reviews widgets.
Supports user reviews.
Publish Pros and Cons lists.
Support for rich snippets.
Price: from $75
Rich Reviews

Rich Reviews is popular free WordPress reviews plugin that makes it easy to accept and publish user reviews on your WordPress website. Rather than being focused on helping you publish reviews on your blog, Rich Reviews has been built to help you upgrade your site by accepting reviews from your visitors, users, and customer. If you want to boost sales and other conversion rates, publishing user reviews with this free plugin is a great way to do so.
Best Features of Rich Reviews:
Easy way to accept and publish user reviews on your website.
Customization controls over how the reviews are organized.
Color and other display settings.
Support for rich snippets.
Integrates with Gravatar for displaying user photos.
Free!
Price: free
WP Rich Snippets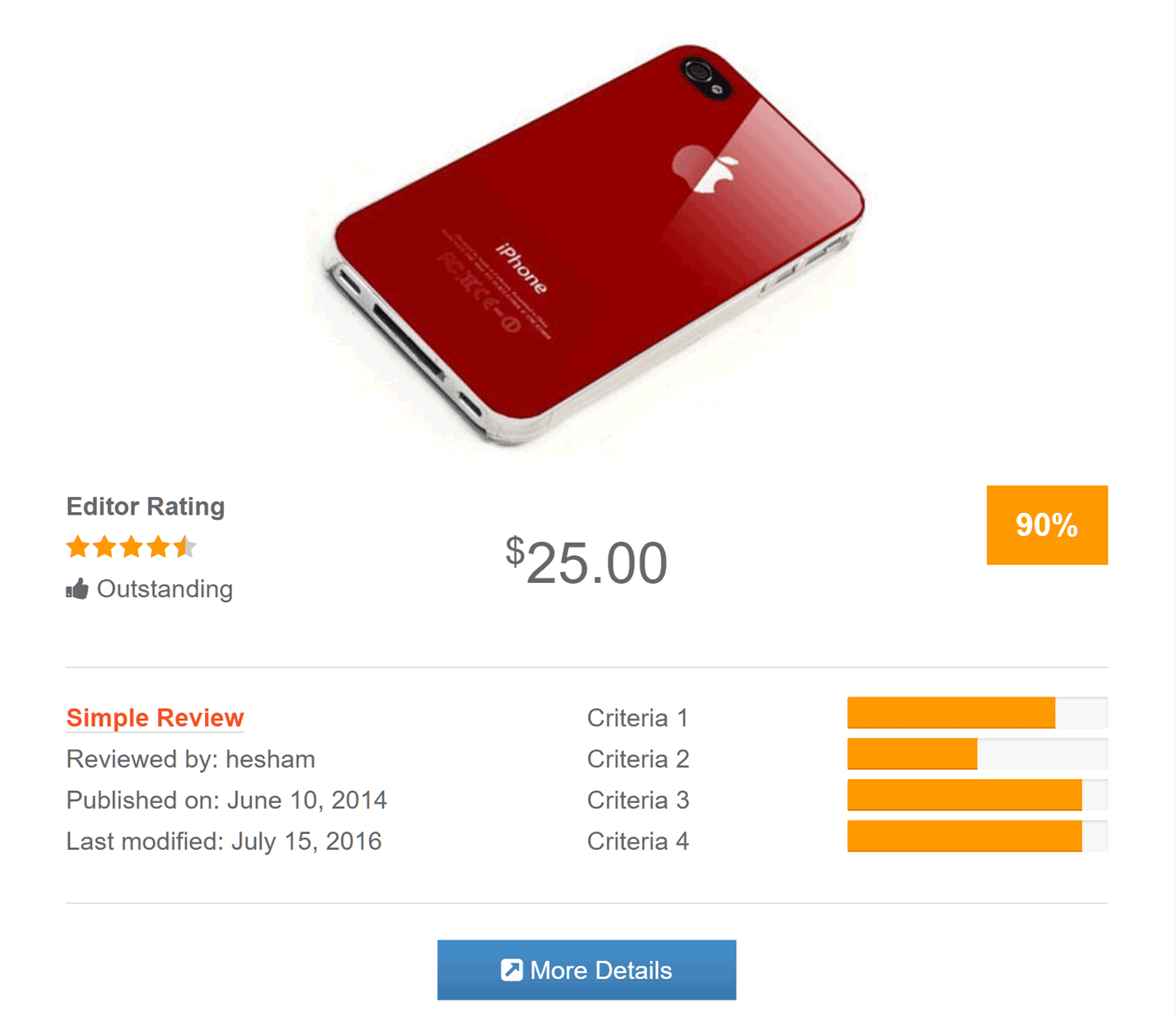 WP Rich Snippets is a powerhouse of a WordPress reviews plugin. In just a few steps, you can transform your standard blog posts into informative and eye-catching reviews. If you want your content to stand out from the crowd when your target audience are researching a product, WP Rich Snippets is well worth checking out. It's not free, but if you are serious about publishing professional looking reviews, this would be a good investment.
Best Features of WP Rich Snippets:
High-quality presentation.
Selection of review shortcodes and widgets.
Publish product Pros and Cons.
Create custom review criteria.
Support for WooCommerce-powered ecommerce stores.
Library of add-ons for more features and improved integration.
Price: from $69
WP Reviews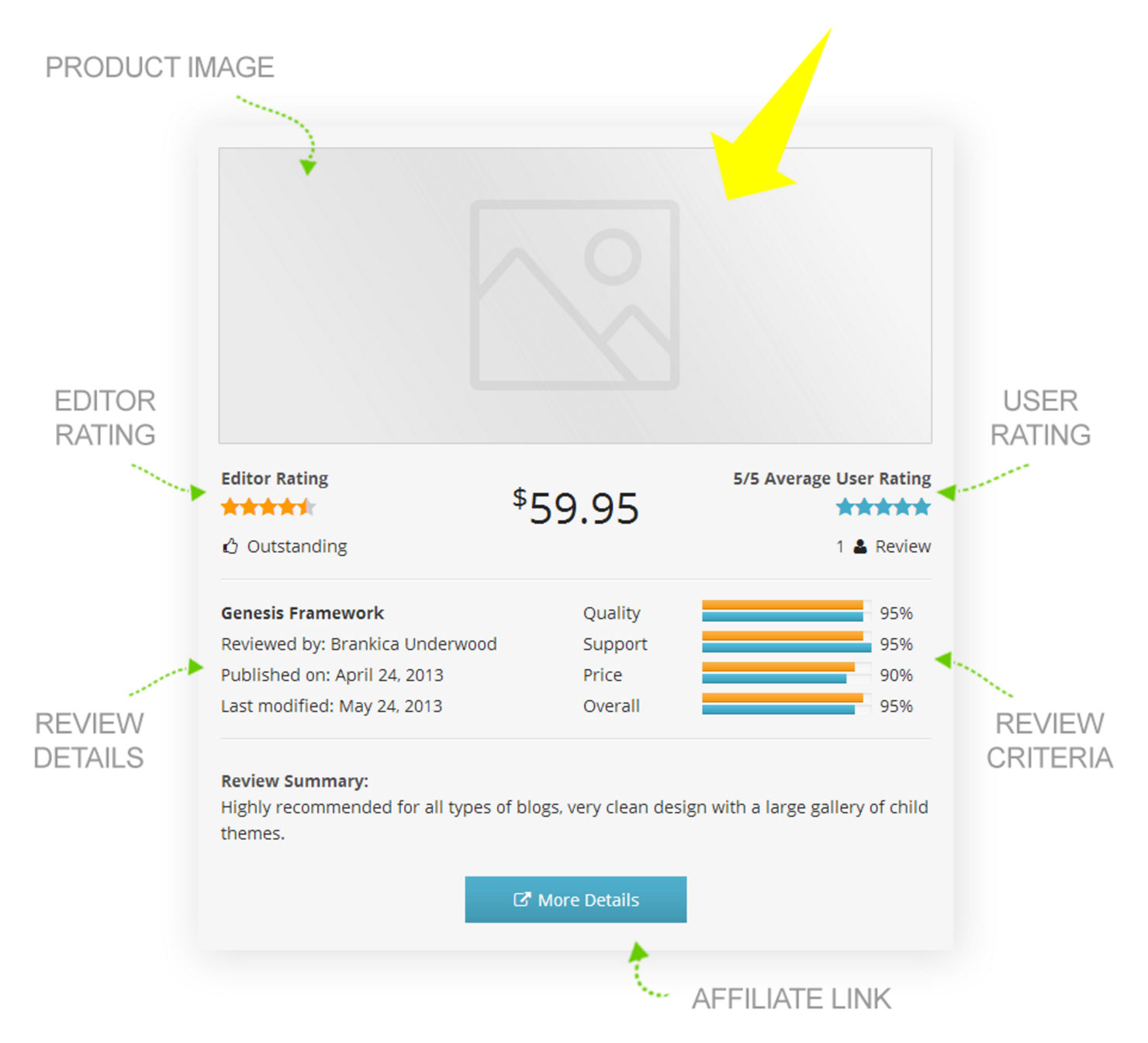 WP Reviews is a well-established WordPress reviews plugin that has plenty to offer. This plugin will add fully featured reviews system to your WordPress website, making it easy to enhance your content. If you've ever wondered how other blogs publish such professional looking reviews, they're probably using the WP Reviews plugin.
Best Features of WP Reviews:
Stylish review box design.
Supports editor ratings and reader ratings.
Create custom review criteria.
Covers a wide range of review types, such as products, places, and more.
Library of review widgets and shortcodes.
Includes the powerful Author hReview WordPress plugin.
Price: from $69
Reviewer WordPress Plugin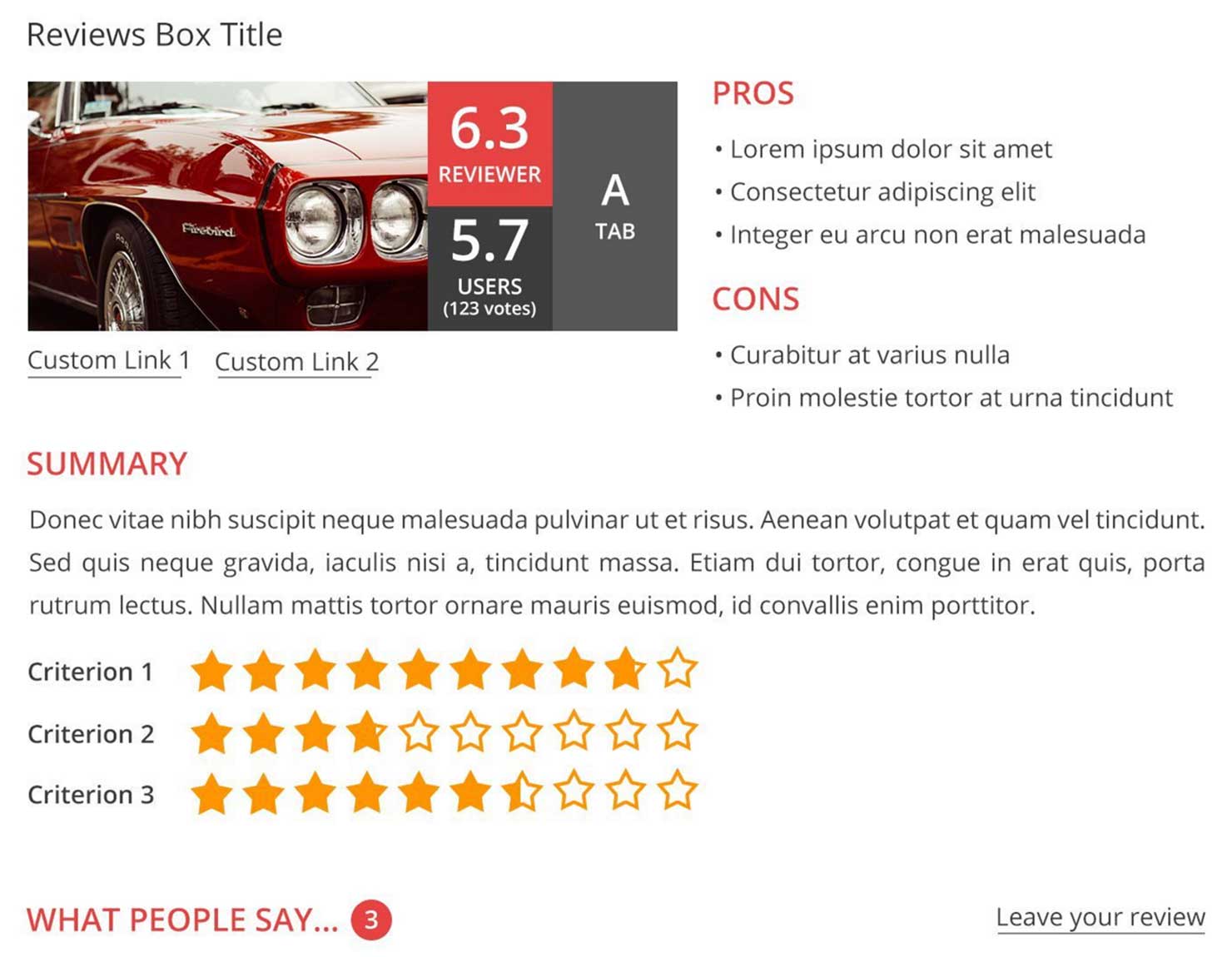 Reviewer WordPress Plugin is available from CodeCanyon for just $25 making it an affordable premium option in this collection of the best WordPress reviews plugins. After activating this plugin on your website, you'll be able to publish reviews in a number of different ways. Generating product comparison tables is a breeze too with this plugin.
Best Features of Reviewer WordPress Plugin:
Wide range of review boxes and formatting options.
Quickly create sortable product comparison tables.
Create custom review criteria.
Advanced user rating system.
Support for rich snippets.
Lifetime access to plugin updates.
Price: $25
Final Thoughts
As we've just seen, there are many different ways to start publishing reviews on your WordPress website. From free options like Rich Reviews to powerful premium plugins such as WP Review Pro, there's a small but strong selection of review plugins for WordPress.
However, if you're starting a new website from scratch, then you might want to consider using a WordPress review theme. These themes often not only have a design that's been created especially for displaying reviews, but they also include all the review publishing functionality you'll need. Two great examples of WordPress review themes include Divi from Elegant Themes and Schema from MyThemeShop.
Which plugins will you use to publish reviews on your WordPress website? Let us know in the comments below.